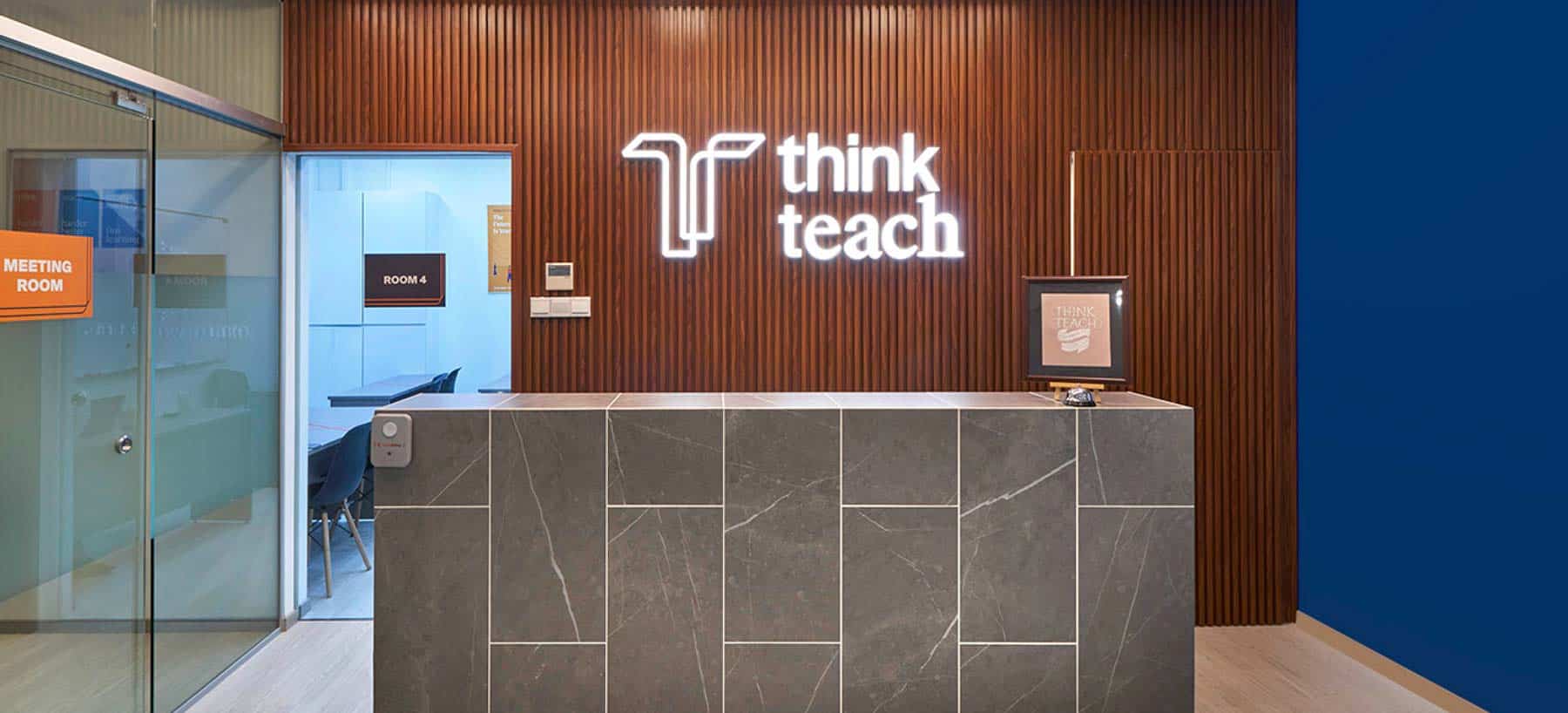 Think Teach Academy was born out of a shared vision to revolutionise learning and teaching in Singapore with a unique blend of education that transforms young minds into thinkers of tomorrow.
At Think Teach, students are supported to dream big and empowered to think smart. Through a curriculum that challenges and under teachers that inspire, students grow to fall in love with learning and believe in their potential to achieve success within and beyond the classroom.
Algene LL.B. (Hons) LL.M.
Co-Founder, Chief Education Officer
Algene is a former practising lawyer and a double-degree holder from the Singapore Management University (SMU) upon graduating from Anglo-Chinese Junior College. He was a proud recipient of the prestigious University Scholars Programme Scholarship, a dean's lister as well as a winner of countless of competitions and awards in Law.
While Algene topped his Master of Laws cohort and went on to practise law in two 'Big Four' law firms in Singapore, he knew that teaching was always his foremost passion. This calling eventually led to a career switch and Algene found himself teaching at a top government school before setting up Think Teach Academy.
Upon founding Think Teach, Algene's desire to shape and empower students only grew. He is a firm believer that smart studying strategies are the keys to academic success. He has spearheaded the curriculum and development team to produce teaching and lesson materials that reflect this very belief. Algene is always in search of novel and innovative ways to improve the student experience. It is his fervour for inspiring young minds that spurs him and nothing makes him happier than seeing a student enabled to succeed and empowered to excel.
Shou Yee B.B.M. (Hons) B.Sc (Econs) (Hons)
Co-Founder, Head of Operations and Corporate Strategy
Shou Yee is an alumnus of the Singapore Management University (SMU), having graduated with a double-degree from the prestigious Lee Kong Chian Scholars Programme. Prior to SMU, Shou Yee studied at Raffles Junior College and was in the pioneer batch of the Raffles Integrated Programme. Coming out into the workforce, Shou Yee took on stints in economics research and investment management before he was recruited to join UBS Wealth Management via its Graduate Talent Programme.
Shou Yee's penchant for numbers and data has enabled him to develop strategies to effectively pinpoint recurring trends in examination questions. Along with the Think Teach team, he introduced these into the specially-crafted syllabus to help students visualise and deconstruct challenging questions so they may adopt the best solution in their arsenal. Shou Yee believes that keeping things simple and engaging is a sure way to nurturing students' confidence in any subject. "As students gain confidence, they will make it a personal goal to achieve better grades while growing their love for the subject even more," relates Shou Yee who takes it upon himself to ensure all students at Think Teach become positive learners and independent thinkers.
Dr. Boon Heng B.Eng.(Hons) M.Eng. Ph.D.
Director, Head of Curriculum and Pedagogy
Dr. Boon attended Imperial College London under a highly competitive SAF scholarship where he completed his undergraduate and postgraduate studies in Materials Science and Nuclear Engineering. After serving as a naval officer with the Republic of Singapore Navy for close to 6 years, Dr Boon embarked on and completed a PhD in Engineering with the National University of Singapore. As a PhD candidate, he was awarded the prestigious NUS Graduate School for Integrative Sciences & Engineering (NGS) PhD Scholarship for research of passivated contact solar cells supported by the National Research Foundation, Prime Minister's Office Singapore.
Dr. Boon has since joined the stellar team at Think Teach Academy. He leads the academic team in the planning and execution of the academy's educational philosophies, pedagogy and curriculum. Dr Boon believes in inculcating in every student the ability to think and learn smart, and the development of teachers to teach smart. Together with the academic management team, Dr. Boon ensures excellent execution of all programmes, with high quality class experiences and lesson materials for students.
Head of Student Experience
Genevieve has an affinity for education. She boasts a proud teaching pedigree, having come from a line of educators. Genevieve cut her teeth as a teacher in government schools before joining private education as a science teacher. She has since spent close to a decade in the private sector honing her expertise in science and taking on various leadership positions in Think Teach.
As one of Think Teach's longest serving members, Genevieve has been aptly tasked with the responsibility of upholding excellence in the academy. She works closely with management as well as the academic and client service teams to ensure the prominence of Think Teach's identity and the quality of the Think Teach experience.
Jeremy B.Sc. (Econs) (Hons)
Head of Parent Engagement
An Economics graduate from the Singapore Management University, Jeremy was a former SAF Scholar and a captain in the Republic of Singapore Navy before he decided to embark on a career in education with Think Teach.
Jeremy earned his chops by devoting time to shadow some of the very best teachers in the industry. When he was deemed ready, Jeremy took on the role as a primary level Math and Science teacher at Think Teach. There was no looking back after. Jeremy quickly rose through the ranks and is now the key man of the academy's primary programmes. A short chat with Jeremy will reveal to you the reasons behind his meteoric rise: his passion and patience made him a favourite amongst students, and his willingness to go the extra mile warmed the hearts of parents.
Above all else, Jeremy is most proud of his role as a father of two toddlers whom he hopes will also experience the Think Teach difference and emerge as thinkers of tomorrow.